A complete, building-integrated photovoltaic solar electric system. Available for concrete, tile, asphalt, flat roof membrane, and metal rooftops.
Energy Costs are Continuously on the Rise
With 310 days of sunshine, we sure are blessed with the opportunity to unleash all that power. We hear it on the street, from our Canadian friends, and snow birds, "I cant wait to buy my home in Arizona so I can get solar. Wow there is so much sun here!" It is incredibly important to those wanting to reduce their monthly recurring energy expenses even as you are living on a fixed income. And, installing a solar photovoltaic electrical system for your home is the best way to increase equity when you own your system. Save with Arizona's greatest resource – The Sun – A Power Giver.
It becomes so automatic; pull out the utility bill and fill out another check. How much do you pay for your comfort?
For many people, their energy costs are the second largest monthly expense to their home mortgage and we forget just how much yearly it adds up. With APS, SRP, TEP, and the other Arizona & Texas utility companies asking for up to 12% increases each year, its no wonder electricity is so expensive for us. If your 401k, annuities and bank savings are not able to maintain those kinds of increases, then you are missing out on big savings – when you "Own Your Solar". Now imagine increasing your ability to have a return on investment up to 9% for 25 years with production guarantees. It is like a time machine; if you could buy fuel in 1999 at seventy-eight cents a gallon for the rest of your life, well, this is the same method. Even the airlines use this time block purchasing method. It's the single reason people are making the switch to solar energy.
PEOPLE WHO KNOW FINANCIAL INFLATION ABATEMENT, EQUITY INCREASES AND SAVINGS ACCUMULATE AS MUCH AS 125% RETURN ON INVESTMENT
Solar Electric PV Products
The benefits of going solar are seen with installations both big and small. Regardless of the size of your installation, you will begin to immediately see savings on your energy bill in conjunction with a reduction in your greenhouse gas emissions. That, however, does not mean all solar products and installations are the same. Understanding the differences and benefits of each Solar Electric PV product will allow you to pick the installation that best suits your needs, maximizes the value your installation will provide, and unlock a New Way To Buy Power.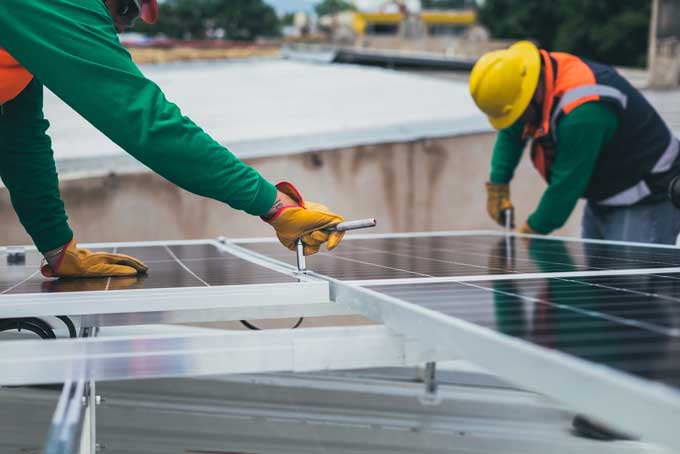 Solar Frontier has been producing and selling Solar Electric PV products for over 70 years, making them one of the most trusted brands in the industry. As an authorized dealer, Scottsdale Solar Energy Panels understands the installations best suited for this product. The SF175-S contains 137 cells, allowing it to absorb the sun's energy at a significantly higher rate. In an environment such as Arizona's, with strong sun exposure, the SF175-S will absorb the sun's energy from essentially sunrise to sunset, strongly operating between roughly 6am-7pm. That allows you to utilize your solar energy during the entirety of the day, when energy costs are at their highest. Call us today to learn more about Solar Frontier and how the SF175-S will benefit your home.
Advanced Solar Home Demand Management System
As one of only two companies authorized to resell and install this unit, Scottsdale Solar Energy Panels is excited to introduce a New Way To Buy Power in the Scottsdale market. This system works in conjunction with your solar products, supercharging your savings by managing your electric output. This allows you to better take advantages of your off-peak power which results in significantly reduced kilowatt costs. Installation of the Demand Management System typically shrinks SRP customer solar systems by 40% and APS customers by 30%, providing you incredible savings during both on and off-peak hours.
Maximize Your Solar System with Scottsdale Solar Energy Scottsdale's Professional Install
Guarantee your investment in solar PV technology with top-grade installers from Scottsdale Solar Energy Panels. We guarantee that all your components will be installed by certified professionals and that the system will be put in properly and tested fully once completed. With our team of certified, professional installers, you'll benefit from:
An Investment in Performance
Certified and Trained Installers
Top Efficiency